1- KNITTING AND PROCESSING
We outsource knitting and dyeing facilities. For that purpose, we have team of skilled and qualified persons
2- CUTTING
It is not without saying that "Good Sewing Begins with Good Cutting". Our cutting capacity is 800-2000 pieces per day. The garment components have to be cut accurately and precisely as per the shape of the pattern to facilitate the assembling process and for better fitting of garments. The effortlessness in achieving this accuracy is based on the cutting method engaged and on the marker. To get a consistent quality of cutting, the layer height should be as low as possible without affecting the production planning and quality of cutting.
3- EMBROIDERY
We are fully equipped automated latest Tajima machines.  This area of operation is carried out with trained staff under careful supervision to ensure quality.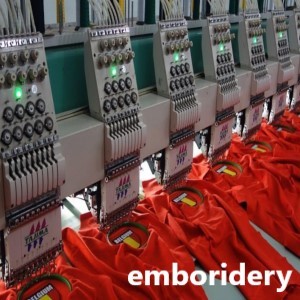 4- STITCHING
Company has 350-400 stitching machine of all varieties with most dedicated and dexterous operators and is capable of producing about 20,000-22,000 dozens of garments per month from basic to high fashion, men's, women's and kids with maximum flexibility in size and color assortments.
5- FINISHING AND PACKING
All the stitched garments are finally inspected by the team of highly trained persons. Thus, our customers get the best of quality delivered to their warehouse.